Off Leash K9 Training of Oklahoma has expanded! Our style of training encompasses the core beliefs and philosophy of consistency, fairness, and crystal clear communication that will turn your dog into a well-behaved member of society in any situation.
Off Leash K9 Training of Oklahoma is a dedicated AKC Canine Good Citizen (CGC) Evaluator and is a Certified Pet Evaluator through Therapy Pets Unlimited.
Meet The Off Leash K9 Team
Perry has always loved animals, especially dogs since he grew up with them. He began his career working for a local pet store in Owasso, Oklahoma where he worked from age 14 until he graduated from Tulsa Community College. He then transferred and moved to Edmond, Oklahoma with his dog, Brindey. He graduated from the University of Central Oklahoma with a Biology degree and a Business minor.
Perry was hired by a local oil and gas company where he started in the field as a trainee and quickly advanced to Account manager of Oklahoma, Texas, and Kansas. He now has four dogs: Brindey, an 8-year-old Boxer; Apollo, a 4-year-old Shepherd mix; Pebbles, a 3-year-old Jack Russel mix; and Zaylie, a 2-year-old Boxer. After 5 successful years in the oil and gas industry, he decided to change careers and do something much more rewarding and enjoyable to him, working with dogs! He looks forward to helping customers with their furry family members.
Perry joined globally recognized dog training business Off Leash K9 Training in order to give dogs amazing obedience and owner's peace-of-mind! Perry believes that your dogs should compliment your life, not complicate it!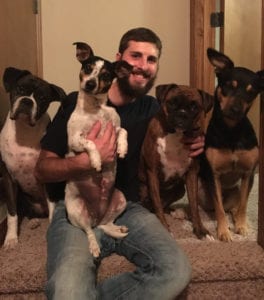 Maegan is a dedicated professional with a Bachelor's Degree in Marketing from the University of Central Oklahoma. Since November 2017, she has been passionately involved as a trainer at Off Leash K9 Training, where her enthusiasm knows no bounds. Together with trainer Devon, they are the proud owners of Off Leash K9 Springfield, serving the Springfield/Branson area since August 2019. Maegan's true joy lies in working with dogs, believing that owning a dog should enrich life experiences rather than hinder them!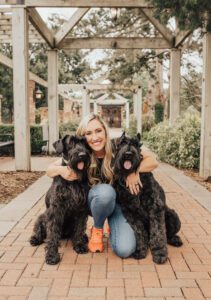 After graduating with her bachelor's degree from Oklahoma State University, Devon decided to pursue a career in what she loves most: Dogs. She has been training with Off Leash K9 Training since May 2018, and her love of dogs has only continued to grow.,
Devon and trainer Maegan also own one of the many OLK9 franchises in Springfield, Missouri! In her time as a dog trainer, Devon has had the opportunity to work with hundreds of families, including a few local celebrities such as Mike Gundy, Head Football Coach at Oklahoma State University, Mark & Megan Moore, owners of Bob Moore Auto Group, Seth Wadley, owner of Seth Wadley Auto Group, and Joe Ferguson, owner of Ferguson Auto Group. They all agree that you have come to the best of the best to help you train your dog!
Devon believes that dogs are a huge part of every family, and their training can only make their part that much better.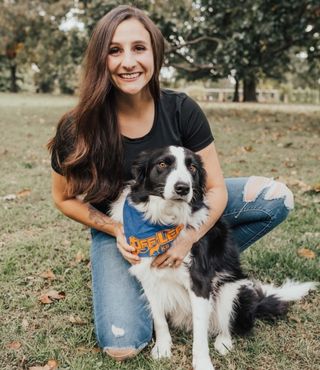 Cassidy was born and raised in Edmond, Oklahoma. She graduated from Northwestern Oklahoma State University where she played volleyball and got her bachelor's degree in Business Administration. Cassidy has a background in sales before deciding to change careers. She has always had an entrepreneurial spirit and love for dogs ever since she was a little girl, so joining Off Leash K9 Training was an easy decision! Cassidy believes that every pup deserves the best life and training only enhances the lifestyle of each dog and their families!
Amanda Prasuhn was born and raised in Edmond, OK. She is currently a student at the University of Oklahoma doing online classes. She began working at a doggie daycare at the age of 12 and has continued to be in the doggie daycare business throughout her years. She grew up getting dogs from breeders, but as soon as she moved out of her parents for college she rescued her first dog, Ellie Mae. Amanda now has a passion for rescuing dogs. Her second dog, Bane, is a bait dog survivor and she has been working on helping him regain his trust with humans. He's come such a long way in the 6 months she's had him! Joining the Off Leash K9 Training team is something Amanda has been wanting to do for years. She's spent some time at college, and now is at a place where she's ready to nurture and develop the relationships between other dog owners and their pets.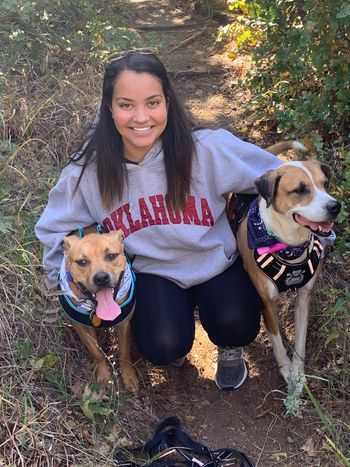 Andi McBride was raised in Oklahoma, constantly surrounded by dogs from an early age, being the daughter of a Pomeranian breeder. As an adult she decided giant dogs were more her speed, and she now has Freya, a 3 year old Great Dane, and Nelson, a 2 year old Saint Bernard. Andi knew that having well-mannered pets would be extremely important given the size of her dogs and she hired Off Leash K9 Oklahoma to help. She immediately fell in love with the company and decided to pursue a career helping others transform not only their life and experience as owners, but the life and experience of their dogs. One of Andi's goals with every client is to help strengthen the bond between dog and owner by providing them with tools that assist in communication, build confidence, and foster trust.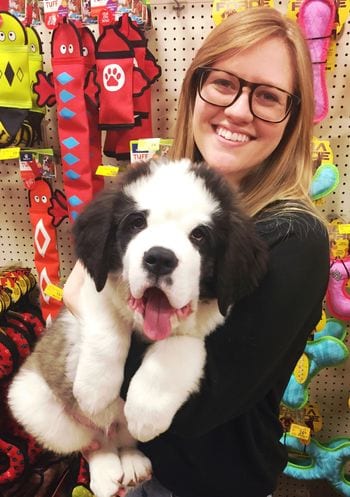 Mark Piatt was born and raised in Edmond, Oklahoma. He attended Oklahoma State University where he stayed very active playing in the intramural leagues and graduated with a bachelor's degree in Applied Exercise Science.
Out of college Mark knew he always had a passion for dogs, training and helping others. After his wife Devon joined the team as a trainer he saw how much he loved what she did with dogs and with people and knew that he wanted to be apart of that. Mark and Devon have 3 Border Collies of their own and a son named Gray!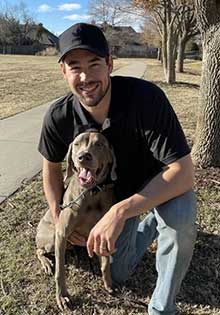 Reid has lived much of his life in Oklahoma and graduated with a degree in Management Information Systems from The University of Oklahoma. Having lived with dogs his entire life, he first experienced the joy and benefits of an Off-Leash K9 pet when he took his Great Dane through the training program. Seeing the incredible difference in behavior, confidence, and the strengthened bond with his pup, he knew he wanted to help others find the same results!
Reid's hope for owners and their pets is to equip them with the tools and knowledge to forge a stronger relationship, build trust, and grow the confidence that comes with a high quality training program.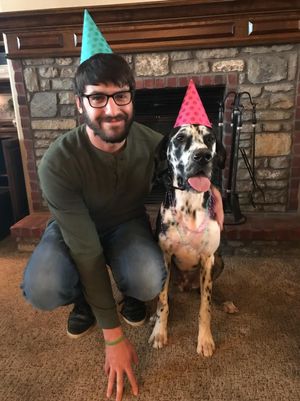 Holly was born and raised in Edmond, Oklahoma. At the age of 16, she began working at a veterinary hospital and quickly fell in love with working around dogs. She later graduated from the University of Oklahoma with a bachelor's degree in Psychology, but as soon as she moved back to Edmond, she realized that her true calling was working with dogs all along and immediately went back into the veterinary field.

As soon as she found out about Off Leash K9 Training, she realized it was time to pursue her true passion and there was no question whether she wanted to join the team. Holly feels that she has found new meaning in her life in this profession, and absolutely loves being able to help dogs and their humans connect on deeper levels and live their best lives together.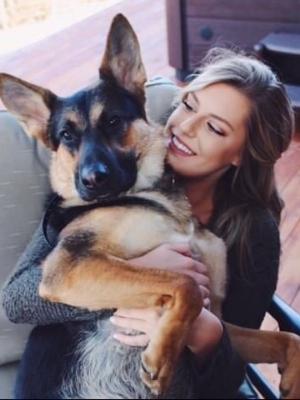 Micah Cox's journey is a testament to her unwavering dedication to animals and a lifelong pursuit of excellence in canine training. Born in Albuquerque, New Mexico, she grew up internationally, fostering a deep connection with various cultures and experiences. Her passion for animals took root as she actively participated in international rescue, agriculture, and game photography.
Her academic path led her to Oklahoma State University, where she earned a degree in Animal Science-Ranch Operations and a certificate in Equine Enterprise Management. Her diverse interests led her to experiences at the Edmon Low Library, a brief stint in polo, and a transformative internship at Brush Creek Kennel, where her calling as an Assistant Trainer emerged. There, she honed her skills training various breeds and canine types, specializing in German Shepherds, from personal protection dogs to cherished family pets and Schutzhund competitors.
Micah's impressive accomplishments include six dogs with coveted Canine Good Citizen (CGC) titles, including the prestigious Urban CGC. She fearlessly competed in demanding arenas like Schutzhund and ACK scent work, highlighting her unwavering commitment to canine excellence. She is an AKC CGC evaluator, and loves training people on how to train their dogs to achieve one too. Currently, she channels her expertise into developing her beloved companion, Zane, a Heinz 57 breed, for advanced obedience and tracking, and dock diving achievements. Micah Cox's passion for training knows no bounds, making her the dedicated partner you need in your dog's journey to excellence.
Zach was born and raised in Edmond, Oklahoma. Growing up in a multi-dog family, he has always loved dogs. He and his wife are proud owners of a German Shepherd named Maddox and an Australian Shepherd name Luna. His background consists of managing local restaurants and attending Oklahoma State University.
After many years of working in the service industry and seeing his wife Holly impact other families because of the skills she acquired through Off Leash K9 Training, he realized that working with dogs and giving their owners the tools to communicate with them effectively is his true passion.
Zach feels nothing is more rewarding than seeing a dog's transformation throughout their time with Off Leash K9 Training.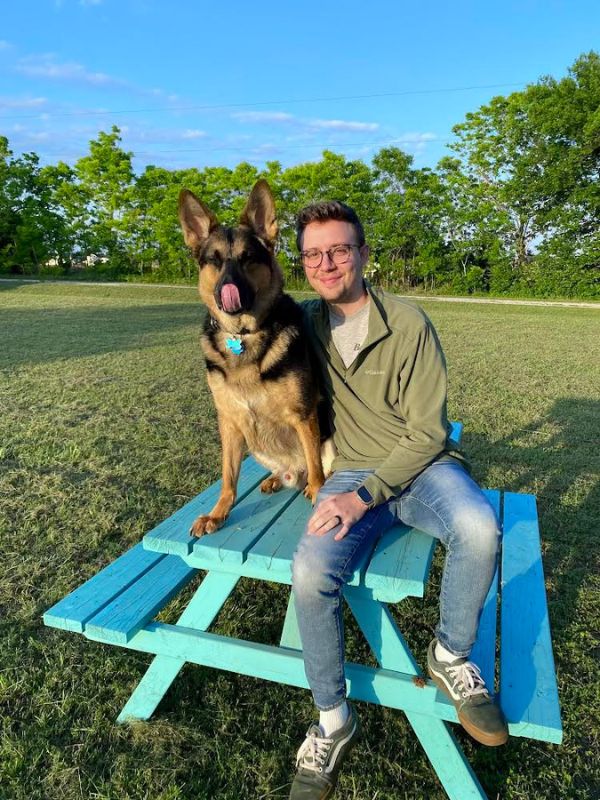 do you have questions for us?
About Off Leash K9 Training
Dog Trainers Who Are Recognized Around The World!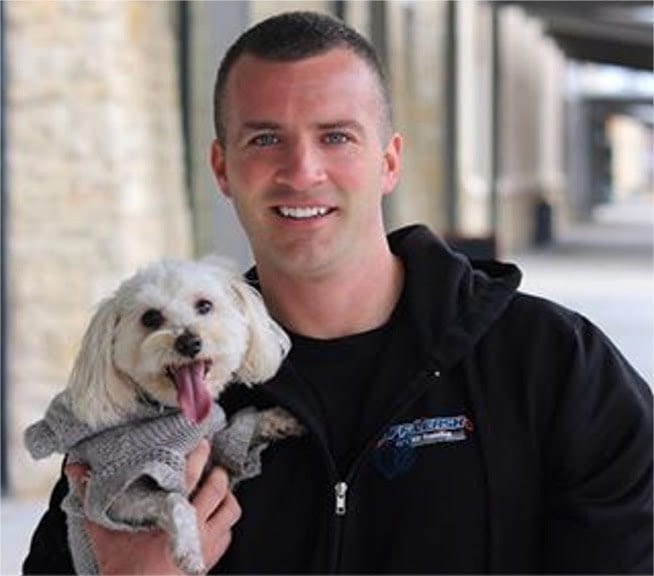 Nick White is the Owner and Founder of Off Leash K9 Training.  Nick is a former US Marine and former US Secret Service. He currently has over 130+ dog training locations throughout the United States. 
Nick is globally recognized as being one of the top dog trainers in the world.  He has 2 official world records in off leash obedience, named on Wikipedia as one of the top 20 dog trainers in the world, recently named top 10 trainer in the world by bestdogtrainers.org, has been featured in many magazines and shows, and he is regularly requested by the top celebrities and athletes! He has been called upon by people such as actor Ryan Reynolds, WWE's John Cena, MLB All Star Max Scherzer, UFC World Champion Jon "Bones" Jones, and many more!
You can visit our YouTube Channel and watch over 1500+ before/after videos of Nick and his team's work!  Off Leash K9 Training has more documented videos than any dog training business in the entire world!